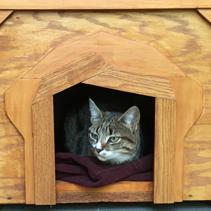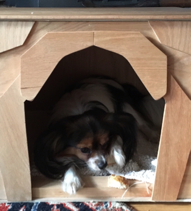 The Garden Bench
Dimensions: 56" W 36" H 18" D
Cedar or Pine
Price: $225 - $300.00
The Garden Footrest
Dimensions: 19" L 15" W 11" H
Cedar
Price: $100.00
The Cateanum

Dimensions: 14" H 23" W 17" D
Door: 10" H 8" W
Cedar and Pine
Price: $150.00
The Dogeanum

Dimensions: 14" H 23" W 17" D
Door: 11" H 10" W
Larger Dogs: Contact Us
Oak and Pine
Price: $150.00 - $250.00

Order Form Page 1 of 3
Please Note: All of Our Products Must Be Picked Up at our Workshop.
Why? Shipping costs have grown to be prohibitively expensive, and the safety of the shipped merchandise is not always assured. We are happy to make the human connection with our customers that can only be formed by a personal pickup!
Contact us for directions to our home/workshop in Barto, PA.